Script Journal: Journal of Linguistic and English Teaching
Script Journal: Journal of Linguistic and English Teaching published by the Department of English Language Education. The Faculty of Teacher Training and Education, Widya Gama Mahakam Samarinda University, which is published twice a year in April and October. The Journal ISSN Number for printed version is 2477-1880 and 2502-6623 for Online ISSN, it contains articles of research or study of literature in the field of Teaching and Learning, English Language Teaching, Language and Linguistics, and English Literature. Articles are written in English
PENDAS MAHAKAM: Jurnal Pendidikan Dasar
PENDAS MAHAKAM journal published three times a year in May, August and November; contains articles of research or study literature learning education and elementary education. Articles written in Indonesian or English.
Jurnal WARNA: Jurnal Pendidikan dan Pembelajaran Anak Usia Dini
Jurnal WARNA
terbit dua kali setahun pada bulan 
Maret dan September
, memuat artikel hasil penelitian atau kajian kepustkaan bidang pendidikan dan pembelajaran anak usia dini. Artikel ditulis dalam bahasa Indonesia atau bahasa Inggris.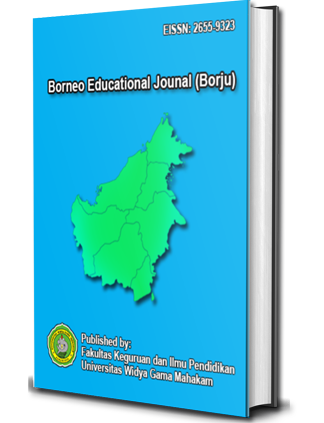 BORJU:Borneo Educational Journal
.
Borju: Borneo Educational Journal by The Faculty of Teacher Training and Education, Widya Gama Mahakam Samarinda University, which is published twice a year in February and August. The Journal ISSN Number for online version is 2655-9323. It contains articles of research or study of Theory of Education, Language Education, Early Childhood Education, Primary School Education, Educational Management and Technological Education.